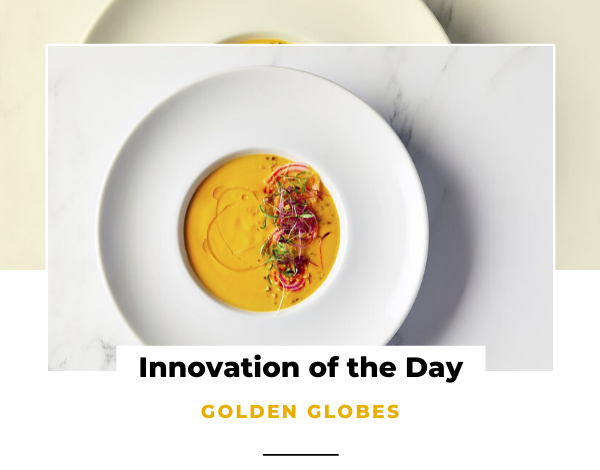 Yesterday, the 77th Golden Globe Awards served a fully vegan menu to its guests. The Hollywood Foreign Press Association (HFPA), the nonprofit behind the awards show, made the menu change just two weeks ago, in an effort to "signal and draw attention to the issue about climate change." The Golden Globes is the first award show of its kind to serve a fully vegan meal, and also partnered with Icelandic Glacial to serve water in glass bottles in the ballroom and on the red carpet.

Though the move didn't distract everyone from gawking at the red carpet looks, here's why it caught our attention:

GREEN PRESSURE. We're obsessed with the ever-changing ways in which people pursue and flaunt their social status. But as we examined in our 5 Trends for 2020, we're at an epic cultural tipping point when it comes to attitudes towards sustainability and status. Yes, the carbon footprint of the Golden Globes is still mammoth but it's quickly becoming inconceivable and even shameful for an event of this nature to serve anything other than sustainable food (big kudos to our event team who made all the catering at our events meat-free back in 2018! ;) Gucci has called on luxury fashion leaders to join the Carbon CEO Neutral Challenge. Will you simply react to the GREEN PRESSURE trend or, better yet, will you take the lead?

INTERVENTION SEEKERS. We might have endless information on our health, financial fitness, or career progress is great, but acting on that information is another story. Like all powerful trends, a lack of willpower transcends cultures, classes and generations. People — yes, even rich and famous actors — will welcome brands that help them make the behavior changes they struggle to make independently. Similarly, Salesforce didn't serve any meat at its annual Dreamforce conference and saved nine million gallons of water. How can you serve your customers the right choice, not as an option, but by default?
---
New: 2020 trend events
_________
2020 is here! We're delighted to announce our annual event schedule for 2020.


Get #InnovationoftheDay on these channels!